20X55 Tent Reg $1499.99 Sale $999.99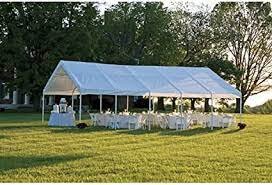 Description
20X55 Tent Reg 1199.99 Sale $999.99
Introducing the 20X55 Party Tent, the perfect addition to any outdoor event! This spacious tent measures 20 feet by 55 feet, providing ample room for guests to mingle, dine, and dance.
The tent is made from high-quality materials that are designed to withstand the elements, ensuring that your event will be protected from rain, wind, and sun.

Whether you're hosting a wedding, a corporate event, or a backyard barbecue, the 20X55 Party Tent is the perfect choice for any occasion. With its spacious interior, durable construction, and versatile design, this tent is sure to impress your guests and make your event a success. Order yours today and get ready to party in style!